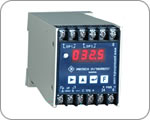 7650
( Dual output, Din rail, 24 V DC PS )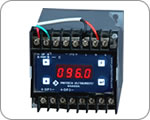 7646
( Dual output, Din
rail, 230 V AC )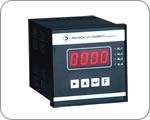 7618
( 4 outputs, 96*96 )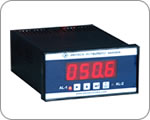 7659
( 4 outputs, 96*48 )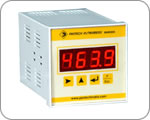 7616
( 4 outputs, 72 * 72 )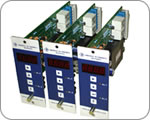 DCS00185
( Euro Card Cage format )
Rugged & Time Proven Designs
2 wire / 4 wire types
Three Port Isolation – Opto and Galvanic
Universal Predefined Inputs / Ranges
4 digit Display to show input PV
Wide Input / Ranges type supported
Transmitter P.S. @ 24V DC.
Various sizes / Mountings / Enclosures supported RS485 based Communication output provided
MODEL 821U – Universal / Predefined type SIGNAL ISOLATORS ( Microprocessor based and fully configurable )
Introduction
Pantech's Universal Input Signal Isolator, model 821U is an ideal instrument for providing isolation between input, multiple outputs and power supply. The module is an ideal choice when fanning out of process signal is required. It provides up to max. 4 output signals, each capable of driving of 800 ohms. All these outputs are isolated from each other, input and power supply. This ensures isolation between various subsystems and protects the system from all grounding problems.

The isolators are designed such as to accept UNIVERSAL type of inputs. The high end programmed microcontroller allows the user to configure all the parameters of the instrument. All the calibrations, fine tuning of the output can be done without opening the instrument. All the types of inputs, acceptable by the instrument are mentioned further. The unique design of the module requires only one single positive barrier at the input from a two-wire transmitter for intrinsic safety and isolates the control room. The cold junction compensation is built in and up scale burn out is provided as standard features for thermocouple input ranges.

The model is equipped with a mandatory display of resolution 4 digit. All the settings, configurations etc. can be done with the help of 4 keys on the front.

The instruments are also facilitated with internal transmitter power supply of 24 V DC, to power up two-wire transmitters.

Low drift precession components are used for long term accuracy of the instruments. All instruments undergo a burn-in for better reliability.

The instrument is available in different formats and sizes. Information regarding specification and size is given below.
Specifications
Input ( & Display range )

Current, 4 – 20 mA DC/ 0 – 20 mA DC ( -1999 to 9999)

Voltage, 1 – 5V/0 – 10V (-1999 to 9999 )

RTD Pt 100 – 3 wire ( -100.0 to 600.0 C)

T/C Type J (-100 – 800)

T/C Type K (0 – 1200)

T/C Type R (0 – 1760 )

T/C Type S (0 – 1700 )

T/C Type T (-100 – 400 )

T/C Type B ( 450 to 1820 )

T/C Type E ( -100 to 1000 )

T/C Type C

Ohms-0-10K ohms ( -1999 to 9999 )

mV DC

UNIVERSAL type 1– 1…8 of above

UNIVERSAL type 2 – 1…13 of above

Pulse train input. ( open collector type )

–10 to 10 V DC / -mV to mV DC ( -1999 to 9999)

RTD – Cu 53 ( -100 to 200 C )

Special type of inputs of any V/Current/Resistance

( However on factory confirmation only )

Decimal point configurable for linear inputs

T/C temperature displays without decimal point

Input impedance

200 K( for Voltage, mV & T/C inputs
upto 250 ohms for current inputs

Display resolution

4 digit ( -1999 to 9999 )
Display to show input PV

Display accuracy
+/- 0.1% of span

Maximum no. of outputs

4 nos.


Analog output

Isolated / Non Isolated 4 – 20 mA DC
Isolated / Non Isolated 0-10 V DC
Other types on factory confirmations
Analog output load capability
800( maximum for current outputs

Output fine tune

By front keys only

Output accuracy

+/- 0.1% of span

Serial output with open protocol

RS232 With modbus RTU protocol
RS485 with modbus RTU protocol
Note: Any other protocol on demand

Transmitter power

24 V DC for current inputs
10/12 V DC ( in case of Load cell / Proximity application )


Power supply

24 V DC

110 V AC, 50 Hz, +/- 10%

230 V AC, 50 Hz, +/- 10%

90-270 V AC – SMPS

Specials on factory confirmations

Security

Single level Password protected

Power consumption

3 VA max.

Cold junction compensation

Built in for T/C input.

Ambient temperature

0 – 50° C.

Storage temperature

0 – 70° C.

Humidity

90% RH (non-condensing)



Enclosures
Weatherproof, Flameproof and all other standard types

Mounting
Panel / Wall / Field / Dinrail / Eurocard / Specials

Dimensions
Standard and Specials

All config/calibration from front keys only

Following table describes the availability of several models with the company right now. A general preview is only presented to the user. The dimensional and display sizes are the relational virtues of each other and hence the user is always requested to clarify the specifications of instrument with the factory prior to placement of the order.

• On confirmation with factory, changes of all types in all specifications is possible
Model

Mounting & Dimension in mm (H * W * D)

Inputs

Power

Isolated outputs

Indication Options

Display size

Type of o/p

No. of o/p

Display resolution

821

Panel

96*48*110
96*96*110

All

All

All

Max. 4

4 digit

¼" size or ½" size

Din rail

70*60*110

All

24 V DC

All

Max. 2

4 digit

¼"

70*100*110

All

All

All

Max. 4

4 digit

¼" size or ½" size

Wall

Optimum

All

All

All

Max. 4

4 digit

¼" size or ½" size

Euro

Optimum or standard

All

All

All

Max. 2

4 digit

¼" size or ½" size
** Special dimensions / Enclosures / specifications subject to factory confirmations.
Note :
For any temperature inputs, the output signal can be configured for any subset range of the input temperature ranges. For eg. With RTD Pt. 100 inputs ( -100 to 600 deg. Full scale ragne ), the isolated output signal of 4-20 mA DC can be configured for a temperature range of 100-200 deg. C also at inputs.

Above type and All other type of configurations, possible by front keys only.
Ordering Information ( 12 digits )
Please confirm the availability of the model by cross checking the table mentioned on the backside.
Basic Model No. (Specified by first 3 digits)

821U - Microprocessor based Signal Isolator
Fully configurable – Predefined / Universal

Enclosure / Mounting (Specified by letter following 3 digits)

P - Weatherproof - Panel
R - Weatherproof -Din Rail
Made in India By:

PANTECH INSTRUMENTS,
102, Shailja Complex II,
Akota – Padra Road,
Nr. R. C. Patel Ind. Estate,
Vadodara – 390 020.
Telefax: (265) 2331380/6616080