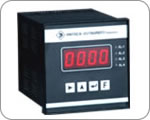 7618
( 96*96, 4 digit )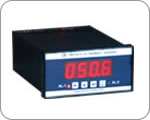 7659
( 96*48, 4 digit )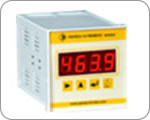 7616
( 72*72, 4 digit )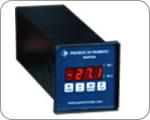 7637
( 48*48, 4 digit )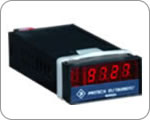 7668
( 24*48, 4 digit )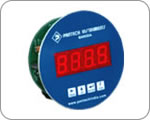 7663
( PCB format, 4 digit )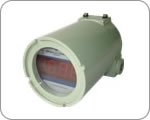 DSC00391
( FLP enclosure )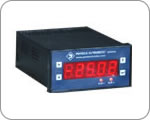 7661
( 96*48 type )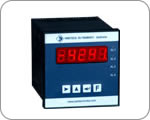 7643
( 96*96 type )
Rugged and Time Proven Designs
UP based and fully configurable
Least Voltage drop of range of 2.8 V DC at full
4 / 4.5 digit resolution available
Various sizes / Mountings / Enclosures
MODEL 808LED – LOOP POWERED INDICATORS with LED displays
( Microprocessor based configurable type )
Introduction
Pantech's Loop Powered Indicator, model 808LED, is an ideal instrument for providing indication in the field where power supply is not available. The instrument derives power from the loop, i.e. 24 V DC fed to the two wire transmitter or from the 4 – 20mA DC signal fed to the load. The hence obtained PROCESS VALUE is displayed on a seven segmented LED structure to the resolution of 4 or 4.5 digits. The user can configure to select the display range as per the input linear signal by front four keys. Possible display ranges with different display resolutions are mentioned below. Note that all the possible configurations etc. are possible by front four keys only. The instrument can be given in PCB format or in a weatherproof / Flame proof enclosure. The versatile and least possible PCB dimensions allows it to be fitted in any type of enclosure or instrument with any type of mountings.
Low drift precession components are used for long term accuracy of the instruments. All instruments undergo a burn-in for better reliability.
Model 808LED at a glance :
Shows process value as per the input signal of 4-20 mA DC.

Doesn't require external power supply. Derives the required power from 2-wire loop 4-20 mA loop.

User is allowed to select the display ranges as per display digit resolutions.

Least possible voltage drops.

Convenient in IN DOOR applications.
Specifications
Input

Current, 4 – 20 mA DC

Display

4 digit ( -1999 to 9999 )

4.5 digit ( -19999 to 5999 )

* Range / Decimal point configurable

Display size

0.25"

0.5"

Display range

Configurable by front keys

Display accuracy

+/- 0.1% of span

Power supply

24 V DC (22.5 to 28.0V) in two wire loop

Voltage drop

Minimum to Maximum is 3-4.5 V DC




Ambient temperature

0 – 55° C.

Storage temperature

0 – 70° C.

Humidity

5-95% RH (non-condensing)

Enclosures

Weatherproof, Flameproof and all other standard types

Mounting

Panel / Wall / Field / Dinrail / Eurocard

Dimensions

Standard and Specials
Ordering Information ( 12 digits )
Please confirm the availability of the model by cross checking the table mentioned on the backside.
Basic Model No. (Specified by first 3 digits)

808LED - Loop Powered Indicator

LED type display

Enclosure / Mounting ( letter following 3 digits)

P - Weatherproof/ Panel, wall

F - Flameproof / field, wall

X - PCB card only

S - Specials / Others

Display Options ( Specified by the next digit / letter )

4 - 4 digit red LED

5 - 4.5 digit red LED
Made in India By:

PANTECH INSTRUMENTS,
102, Shailja Complex II,
Akota – Padra Road,
Nr. R. C. Patel Ind. Estate,
Vadodara – 390 020.
Telefax: (0265) 2331380/6616080.